A Half Century with the American Pit Bull Terrier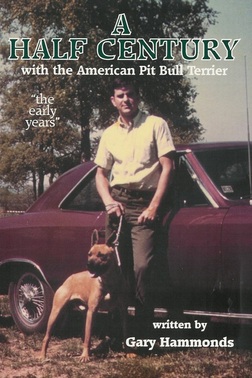 I am very proud of the book and feel it will be an interesting read to all those fanciers, from one who is mildly interested in the breed to the sure enough fanatics. My intent was not only to share a bit of the breed's history and evolution from my experience in the early years, but to put a new spin on the breed and the people who own them.

It covers an in depth view of those dogs I started with from the Bruno-Heinzl dogs to the Alligator family, which through the world famous Rufus dog, became the foundation to the breeding program that I still use today. Mention of many of those famous dogs of that era lends itself to be an educational essay of sorts for many who weren't even born then, but have interest in the dogs that have impacted our breed today.

Perusal of this book should give everyone who owns the American Pit Bull Terrier a new appreciation for the breed.

The cost of the book is $40.00 which includes shipping and handling in the continental United States. To all other destinations the book is $55.00 which includes shipping and handling.

Cashier checks and money orders can be directed to:
Gary J. Hammonds,
6520 Newt Patterson Rd.
Mansfield,Texas 76063.
Personal checks will delay shipping.





---
---
Yard Video

_ We have a current kennel walk on DVD for those wanting to see exactly what's cooking here at the Catch Dog place. It is the next best thing to coming here in person. I can also make up kennel walks from the archives. They go back to the 80's which show ancient history like Vito, Kilroy, Snort, and others that I will never forget about. These will take a few days to complete as I have to piece them together from old VHS tapes and it can become very time consuming. Feel free to ask any questions about these as I am always glad to help in any way that I can.

Gary Hammonds
---
BOB STEVEN'S BOOKS ARE NOW AVAILABLE AND AT VERY REASONABLE PRICES. BOB GIVES ME A HUGE PLUG IN HIS EPILOGUE FOR MY HELP IN HIS STRUGGLE TO SURVIVE THE ATTACK FROM THE FEDS BUT TO BE HONEST MY EFFORTS WERE MINIMAL. I DID PLANT A LOT OF SEED WITH THE RIGHT PEOPLE AND THE GOOD LORD LET THEM SPROUT ALL THE WAY TO THE SUPREME COURT OF THE UNITED STATES OF AMERICA. A MUST READ FOR ANY ONE OWNING OR WANTING TO OWN AN AMERICAN PIT BULL TERRRIER…..GARY J. HAMMONDS…FALL 2012
New Book!
Now own the largest APBT book in the world. This gigantic book is 648 pages long. The title, Dogs of Velvet and Steel Revised Edition, is two books in one. It is the complete original DVS book unchanged PLUS Dogs of Velvet and Steel the Epilogue (184 page book) that brings the reader up to date since the original - includes dogs, dog stories, real dog men, pictorial, the trial, appeal, and Supreme Court Case the author went through, that gave our breed freedom of expression. The book is available for the working man at a working man's price, and that is my response to the rascals that sold my book at exorbitant prices, while our government shut me down. There is information in the epilogue chapters as well as in the original DVS that you will learn about Bulldogs you will find nowhere else.
For those who already have the original DVS book, the Epilogue is available as an extended read.
Prices: A money order to Dogs of Velvet and Steel Productions, P. O. Box 62, Pittsville VA. 24139, or electronically by Pay Pal at
orders@pitbullvictory.com
.
Dogs of Velvet and Steel, Revised Edition $45 ($49 by pay pal), plus shipping and handling.
U.S Priority . . . $9.95
Canada . . . . . $14.95
overseas . . . . $26
Dogs of Velvet and Steel, the Epilogue $25 ($29 by pay pal), plus shipping and handling.
U.S. Priority . . . $6.95
Canada . . . . . $8.95
Overseas . . . . $26
Also available - Breaking sticks - collector's item
With book orders only - $25 ($29 by pay pal), plus shipping.
The sticks are stamped "Dogs of Velvet and Steel". This offer is unique because the sticks come with a 12 page booklet that includes instructions to preserve and maximize the life and utility of your stick.
Add $3 for shipping to any book order.
No Dogs Bred or Sold For Illegal Purposes